Minimum browser requirements Internet Explorer 8, FireFox 4.0, Chrome, or Safari.
Unknown 0.0 is currently not supported.
Learn More...
TOGETHER WE ACHIEVE WORKPLACE HEALTH AND SAFETY SUCCESS
Workplace health and safety doesn't cost. It pays. Through transforming our workplace into a culture of safety where learning is valued above training, we can achieve: increased productivity, a better informed and prepared workforce, and fewer accidents and injuries.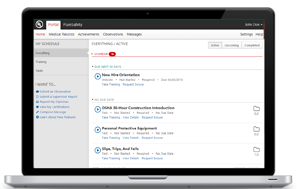 Messages
We're pleased to announce the latest release, PureSafety 7.3, is now available!

Customize your PureSafety look

. Pick from a set of available color schemes to change the menu colors, and add your logo to customize the menu and login page.

Save your Assignment Management screen definition

. Your column setup, filter options, and sort options are automatically saved when you leave the Assignments Management screen.

Import the Hours Worked Values

. Admins can manually import a spreadsheet of hours worked data for multiple locations to get up-to-date incident rate metrics.

Take advantage of new IMS lookup custom fields

. New selection options allow IMS users to easily choose data from long lists of answers when filling out incident reports.

IMS Report Enhancements

. The Submission Counts Report indicates how many incidents took place by location or by type, such as motor vehicle incidents in Ohio. The Events Listing Report has been enhanced with 20 new fields.
For comprehensive release notes visit: http://ul.custhelp.com/
---